Screens. We already spend a significant percentage of our lives staring at the black mirror in our pockets. However, undeterred by recent cultural concerns regarding time spent viewing mobile displays, a growing trend in the connected home is the race between manufacturers to smuggle smart screens into your house.
Facebook and Amazon already have options on the market – indeed, the Echo Show launched in June 2017. Now the Google Home Hub, a compact digital assistant with a 7-inch touchscreen, is joining the fray, intended as a portal through which you can operate your smart-home products and multi-room speakers. Of course, once a company has a connected display in your residence, myriad marketing opportunities become possible. This is the real prize. Make no mistake, a land grab is taking place right now. But do you need more screens for your smart home and, if so, is the Home Hub the answer?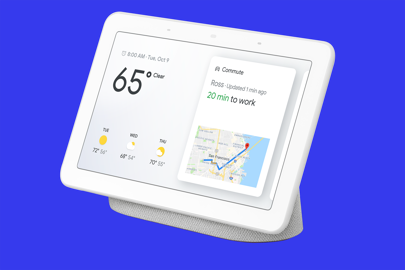 The Good
With little fanfare, Google's industrial design has been getting better and better – and the Home Hub is a prime example of the company's work. It slips seamlessly into surroundings thanks to compact dimensions – measuring just 17.8cm across and 6.7cm deep. While the fabric-clad speakers give the Home Hub a soft, tactile aesthetic much in line with Amazon's new Echoes and Apple's HomePod. Naturally, the 7in screen marks it out unmistakably as a piece of technology, but the Home Hub does its best to be discreet.
Much of this is down to its size. While Amazon's latest Echo Show has a 10in screen, the Home Hub's 7in version means it fits just as well on a small bedside table as it does in your living room or kitchen. It's sizeable enough so that the screen is still useful, but not so overbearing as to be conspicuous.
The positive design decisions aren't just aesthetic, either. Unlike Facebook's Portal screens, or Amazon's Echo Show, the Home Hub doesn't have a camera (which is likely also a contributor to its keen price point). You can also mute the microphone at any time using a switch at the back. This doesn't eliminate all privacy concerns, of course, but by not having an integrated camera, Google's option is clearly a safer bet for the security-conscious over Facebook or Amazon. However, this does mean video calls are not possible – so if weekend Skypes with family members are common in your house, the Home Hub may not be for you.
Setting up the Home Hub is a breeze, and the general interface is intuitive. The home screen will be immediately familiar to anyone who has used an Android phone, with cards showing information about what you've watched recently, the weather, news or your commute, and so on. Google's search prowess clearly gives Google Assistant an advantage in the richness of information displayed, but it is the integration with Android that really stands out, here.
Plus, Google has nailed important smaller details with the Home Hub. For example, ask it for an update on your commute, or directions to a location, and it will send those instructions to your phone. Ask to "play BBC Radio 4" in earshot of both your phone and hub and the Google Assistant has the good sense to play it on your hub, not your phone, without prompting. Having Google Assistant built into your phone also makes it easier to control your devices when they're not in earshot, a small but important benefit in favour of Google's ecosystem. It's also worth noting that the Google Home phone app is considerably better than Amazon's Alexa app, too. Faster, better organised and more intuitive.
Integration with video apps is also impressive. Google's Chromecast tech means you can easily throw footage from any video app on your phone to the Home Hub, making it a handy second television screen for the kitchen. The display itself, while small, is bright and colourful with decent viewing angles. Of course, you can also cast from the Hub to other Chromecasts, or TVs which have this function built-in.
It's with smart-home devices where the Hub really starts to make sense, though. The screen is ideal for checking on security cameras or baby monitors, but it's also useful for controlling devices. Swiping down from the top edge shows the products connected to the Home Hub that you can command using the touchscreen. For example, you can use the screen to finely adjust the brightness of Hue lights (the Home Hub supports other systems) and it's often quicker and more convenient than opening an app on a phone. Also, there are many occasions where a screen is easier than using your voice and, for those occasions, the Home Hub comes into its own.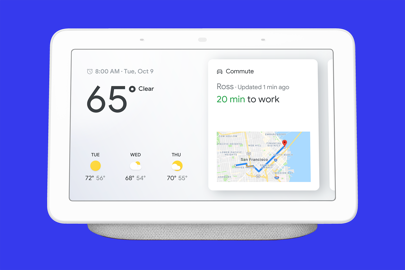 The Bad
The speakers are a casualty of the Home Hub's compact size. They are by no means poor – in fact, they're impressively loud, and dialogue in videos and radio comes through clearly – but they're no more than adequate for music. They sound narrow and lacking in detail, while bass is weak. The Home Hub does offer superior soundscapes to the Echo Dot or Google Home Mini, but still falls short of a full-size Amazon Echo, for example.
Another potential downside, particularly for people who already have a smart-home system, is the lack of support for ZigBee and other smart-home standards. This is something Amazon has embraced with the Echo Plus, though it's only a serious issue if you already own ZigBee products and, that being the case, ZigBee hubs such as Samsung SmartThings and the Wink Hub support Google Assistant already. However, it would still be beneficial if Google embraced this in future, if only to eliminate the need for separate hubs.
The Verdict
If you're committed to Google's ecosystem, the Home Hub is an obvious choice. And, more importantly, it's the right price. At £139, it is £80 less than the new Echo Show, and while Amazon's effort is more advanced – it has a larger screen and more powerful speakers – £220 is a far more serious commitment for something that is essentially a nice-to-have, and not a must-have. As a result, the Home Hub has found a niche, particularly when its integration with Android means it slips seamlessly into your everyday routine.
Swiftype News